Click on each image to enlarge.  
Some of our customers have had trouble finding our building; so we've designed creative directions with google maps included to help make finding our Creative Building easier. Of course if you need extra assistance give us a call; our employees are more than willing to talk you through the navigations!
To find our Main Office in Erie at this address… follow the steps!
Put our address into your GPS or Google Maps.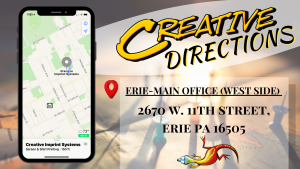 or click the link below….
https://www.google.com/maps/place/Creative+Imprint+Systems/@42.103012,-80.1439517,17z/data=!3m1!4b1!4m5!3m4!1s0x88327fa0bb93a793:0xa8aaa874475cab91!8m2!3d42.1029835!4d-80.1418342?hl=en
2) To get to us from Peninsula Drive, (We're almost half way between Peninsula Drive and Pittsburg Ave off of 12th Street)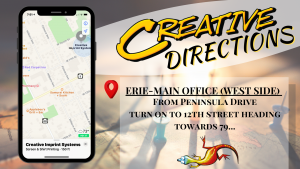 3) If you're a landmark navigator, keep a look out for these structures…
El Canelo, Tim DeLuca Auto Services and the little side street, Lowell Ave, RIGHT NEXT to his BLUE street sign for the auto body shop! If you're not looking for it you will miss it.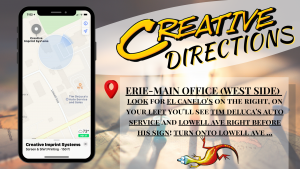 Turn at Tim DeLuca's Auto Services shop, take Lowell Ave STRAIT BACK to our corner driveway.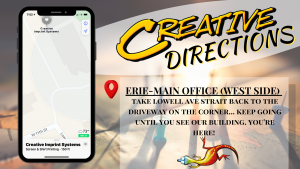 You made it! Welcome to Creative Imprint Systems!
*For further assistance with directions please call 814.835.1000