Although we are back up and running, many people may still wonder why they would want to risk exposing themselves during a pandemic when they can do most things from the comfort of their own homes. E-commerce has been popular for quite some time and only continues to evolve- especially right now.
If you are a business and you will have 75 or more people ordering, an online store can provide an easy way for each person to access the store. An online store will allow them to choose the product that is best for them, while seeing an individualized sizing chart for each item.It allows your customers or employees to order straight from the web-store, and is able to be shipped to your location. That's right, it can be shipped right to your home or office! There is no need to worry about leaving the house to pick up an order, especially if your company is still working from home. Maybe you are used to using paper order forms and don't like switching it up or trying new things. Well, we're here to tell you that online stores are actually easier than paper order forms. Not only are they easier for  the person that typically collects all of the order forms once they are filled out, they're easier for your team, office, students etc.
Fundraisers
Something you may have been seeing a lot of lately are local fundraisers for non-profits affected by the mandatory shut down due to COVID-19. Fundraisers are a great way to raise money if your business or organization was deeply impacted by the pandemic. You can sell all sorts of things from t-shirts to any promo swag items to help bring the business back on its feet. An online store allows your customers or people that follow you on social media to easily access the link and can purchase these items without moving from the couch, because lets face it, most of us that are working from home have become the definition of a couch potato. (That is not an insult, I think we are all still in couch potato mode even if we are back in the office or not!)
Company Stores
Like mentioned before, many businesses are still working from home. Online stores give your employees access to your customized garments that your staff usually orders every year. Your company also may sell items when you walk into the door, like in coffee shops or locally owned restaurants and haven't yet been opened back up to the public for indoor dining. This offers your customers to be able to purchase custom products from their favorite local establishment. You don't have to put an end to your sales just because you had a mandatory shutdown. The opportunities online stores give to companies are endless!
School Spirit Wear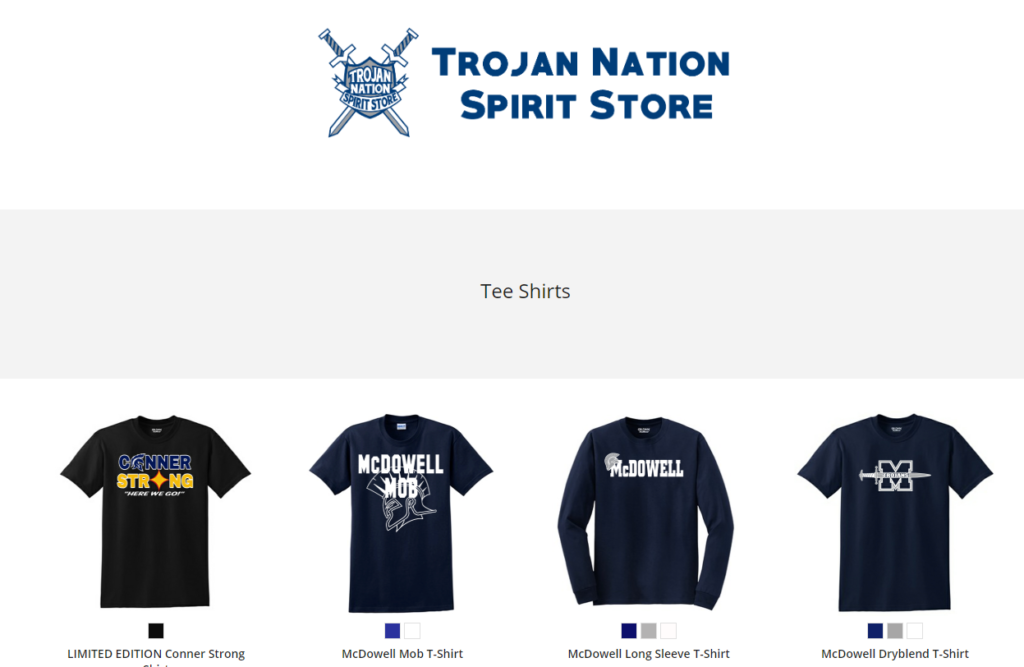 Since school was moved to online and most sports have been cancelled since March, there wouldn't really be a way for teachers, staff or coaches to pass out spirit wear forms. Imagine having to keep track of all of the physical order forms when you could just have the students and parents purchase everything online?! (This typically applies to collegiate and club sports as they have more players and families willing to purchase from the spirit store).
If you don't think your online store will be purchased by 75 or more people, then there is no harm in sticking to the paper order forms. We're just here to help you choose whatever is easier for you and your business! If you think your company or organization will truly benefit from an online store, contact us today!