Ahh yes, it's that time of the year we have either been dreading or… let's face it, mostly dreading. The most WONDERFUL time of the year… winter. Whether we like it or not, it comes creeping around the corner right after Halloween and stays until late springtime. 
We offer a ton of winter products you may have never thought you wanted to get personalized… until now. How cool would it be to have your whole company, club, organization or family wearing gloves, hats or even winter coats with your choice of a personalized logo or slogan. Here are a few of the winter items we have to offer:
Winter Set
This  matching set of gloves, scarf, and knit hat are perfect for a company gift or even for a nice winter giveaway. Each individual item has a faux leather patch where the logo or slogan would be placed. If your organization has any planned outdoor activities that take place during the winter months, this set would be great for everyone to wear to represent the company. Plus, you are bound to stay cozy all winter long with the whole matching set, you almost have no excuse to complain about the weather.. am I right?!
Coats 
Again, a winter coat is essential if you plan on having your team participate in any winter events happening outdoors. Just because there is snow on the ground, doesn't mean you should stop promoting your company or business! It's the time of year where you put your t-shirts away in your summer clothes bin and whip out your coats. This particular coat we have to offer is a 3-in-1 parka. It's lined with a thinner jacket you are able to disconnect to wear on the days it's not as cold. If you live in Pennsylvania, it's more likely you'll need that part lined inside the coat at all times to brace the snow storms!
Blankets
As far as I'm concerned, I have never turned down an offer to have a nice fluffy and cozy blanket. This Sherpa blanket would make a great holiday gift for your entire office. People keep blankets for years and years, and putting your company logo on one can really increase your brand recognition. Sherpa blankets are the perfect blanket to keep at your office desk (if you're the type of person who is constantly cold even with the heat blasting), in your car, or at home for a throw blanket over your couch.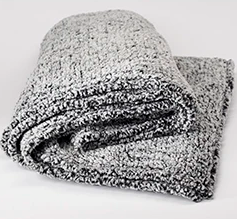 Tech Gloves
Lets face it, we live in a society where a lot of people won't even wear gloves unless they have the fingertips with touch screen capability. We offer these tech gloves that you are able to use outside on your cellphone without having to take your gloves off! These are great if your company does a lot of outdoor construction work, and they can keep the gloves on when they get a phone call or have to shoot a quick text message.
These are just a few of the many winter items we have to offer! If you're interested in any of these items or if you would like to see even more products, call us today and ask to speak with a salesperson.