Ever wonder about our Creative employees?
If you work with just our Meadville or Millcreek location, you may have never met Kara. Kara is the superwoman behind the Harborcreek office. She handles all of the Harborcreek customers orders, which may include delivery, meeting consistently with her customers and just always being alert and ready to take on anything that comes her way.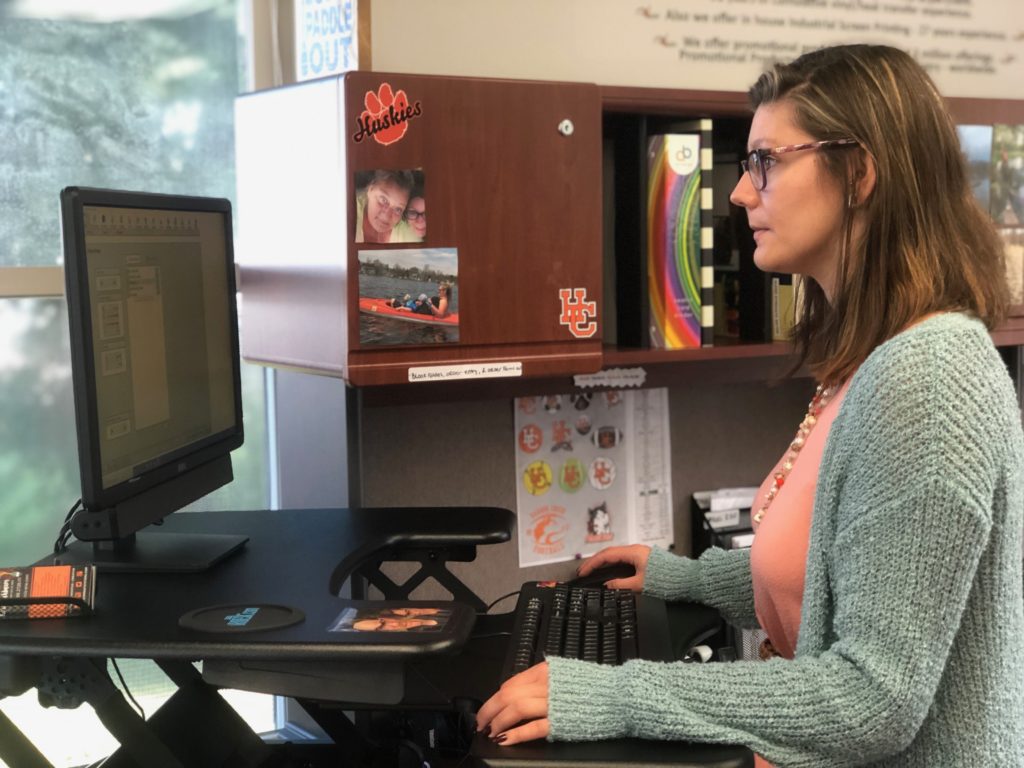 "Kara at the office in Harborcreek has been fantastic! She came on in the middle of a really difficult situation and worked really hard to make sure we had a positive experience with Creative Imprints. She provided great customer service!"
– Holly M
We asked Kara a few questions about her job, as well as some personal questions to get to know her on a different level!
Your job title 
Office Manager – Eastside location of Creative Imprint Systems
How long have you worked for Creative?
This is a loaded question… I actually left Creative for 8 months and then came back! So technically about 2.5 years.
What part of your job do you enjoy the most?
I really enjoy being busy and always on the go. I don't really like sitting at a desk all the time. So being on the East side and having to do other parts of the job that I normally wouldn't normally do in another position, foe example: deliveries, meeting customers, and volunteering at events/stuff like that, I really enjoy.
What motivates you to come to work?
Hands down, my customers! They awesome. I have really developed some good relationships with my customers. We greet each other with hugs and talk when we see each other around town. I really enjoy making their jobs easier by just doing my job. We sort of become a team and it's like we all work together.
I technically have co workers (and I love you guys!!!) but not ones that I see or speak to regularly. My customers have sort of become that role for me.  They are my coworkers! It's sort of strange but it makes this job very enjoyable.
What's one thing most people don't know about you?
Uhm, I'm really an open book to be honest. People who have talked to me or met me pretty much know instantly who I am and (unfortunately) how weird I am!
I guess a random fact most people don't know is that I tore my ACL once by trying to do a back flip off of an exercise ball. It is an embarrassing, idiotic, and painful as it sounds. My friends captured the aftermath on video, and NO I do not have any sort of gymnastics experience. Just ambitious I guess!
If you are in the Harborcreek area, contact Kara! She will be more than happy to help with any order and questions you may have.